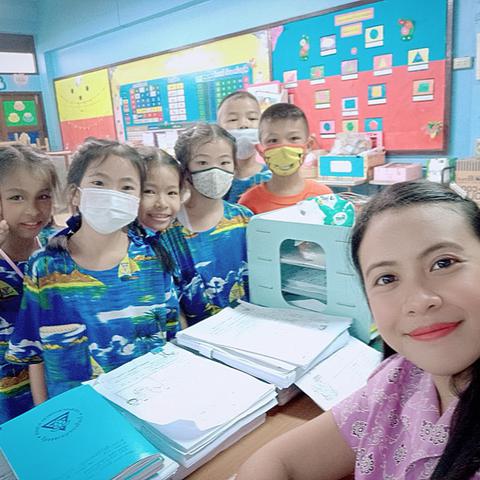 Dear future host family,
I am Anna Lorraine Lanuevo , 26 years old from the Philippines, who is currently working here in Thailand as an English teacher. I am teaching Grade 3 students which are around eight to nine years old.
My family is in the Philippines. We are six in the family and I am the third child. I have three siblings. We are not rich but my parents taught us to always be thankful for everything that we have and we should also always be contented of it. We are also taught of life skills that we can use in our daily living. At a young age, I learned how to cook, wash my clothes, clean the house and everything which can be done by myself. My parents also taught us to be thrifty and we should only buy what is needed. Our life is not very easy so I strived hard to finish my studies and earn a degree. I want to give back to my parents who have sacrificed a lot to give us a better life. And it did really happen. I graduated at Philippine Normal University-Manila, the National Center for Teacher Education in the Philippines, with a Bachelor's Degree in Elementary Education. I am a licensed teacher and I have passed the Philippine Licensure Examination for Teachers (LET) last 2015. And because of that, I was also able to get a Thai teaching license here in Thailand.
Before going to Thailand, I first worked in an English Language Center where I also teach English to Korean students that are studying in the Philippines. I worked there for almost a year and I handled ages nine to eighteen-year-old students. I also tutor them when they have homework from their different subjects and I help them review when they have an upcoming examination.
With my almost 4 years of experience teaching in the Philippines and here in Thailand, I can guarantee you that I am really a hard-working, patient, responsible, affectionate, dedicated, responsible and a flexible person. I also took up my degree because I really love kids. I love interacting with them, and I feel fulfilled whenever I know that they learned from me.
I first felt the love for kids since I was a child. My relatives who have children always leave their kids in our house because they need to go to work. My mom takes care of their babies or their kids and I help her take care and look after them. I learned how to take care of the kids at a young age and I really enjoyed it. I know how to change diapers, prepare the formula milk or even bathe the baby. I really adore kids.
As for my hobbies, I love to watch movies, listen to music, walk in the park, go to the sea, go biking, cook and discover new dishes and interact with people and learn new things from them. But whenever I have a free time, I usually go to the nearest beach to relax and breathe the fresh air. I also love the sound of the waves and it really calms me all the time. I really love nature and I always want to look at it all the time.
I'm looking forward to meet you soon. Europe is my dream country ever since I am a child and I really dreamt of going there if I will be given a chance. I don't only want to travel to Europe but also, I want to help you in taking care, teaching and looking after your children and help you with your house works at home as well. I will be very glad to share my knowledge and skills to your family. I have been dealing with kids for years now and I can say that I know how to handle them very well and I also want to share everything I know to them. I can share my knowledge not only academically but also, practically and emotionally. I can teach them about some lessons that I know can help them in dealing with life. I can guarantee you that I always give my hundred percent in doing the given task to me. And also, if given the chance to be there, I would really want to learn about your culture. Europe has a rich culture and a very interesting history, so I would like to learn more about it.
Thank you for reading my letter.